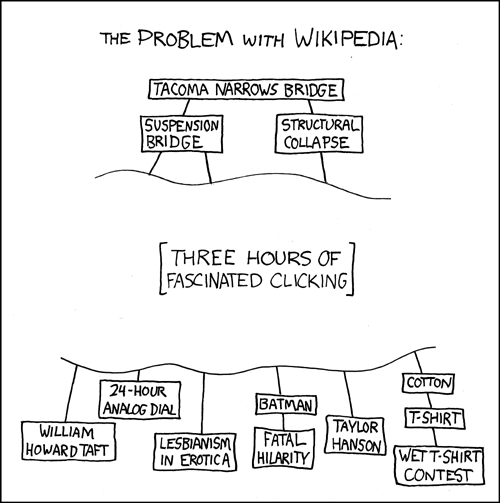 From XKCD: http://xkcd.com/214/
I'm going to take you on a journey. (This is what the guilty do--they drag you down with them.)
Last night, I was going to get some writing done and made the mistake of turning on the TV for some background white noise.
White noise, ha. I should have known better.
The movie
Julie and Julia
was on, about a blogger Julie Powell, who cooks all the recipes in Julia Child's
Mastering the Art of French Cooking
in a single year. Her blog became a hit and she ended up writing a book and having a movie made of her story (with Nora Ephron and Meryl Street and Amy Adams. Wow.)
So I ended up on the internet, reading about her book.
Then I read some reviews on her subsequent book,
Cleaving: A Story of Marriage, Meat and Obsession
. Here's
a review by the Village Voice
and ow, it hurts to read.
Which lead me to inquire about the word
navel-gazing
in Wikipedia.
Which comes from the Greek word,
omphaloskepsis
.
Which lead to more Wikipedia searches.
At some point, I ended up on the
Hesychast controversy
(which, after reading the opening paragraph three times, I still don't quite get what it is) and then
Cappodocia
in Turkey.
Which made me think of
capicolla
(a salami-like entity, not currently in my refrigerator).
Which made me hungry, and I ended up scavenging my fridge for
pepperoni
.
*sigh*
Let this be a lesson to you all.
On another note,
I have a new website!
YAY!!!! Thank you to the marvelous and talented
Tessa Elwood
! And I have a new blog header/color scheme to match.
Also, on Wednesday, I'm guest posting at Jessica Bell's blog on why writing is like practicing medicine.
:)