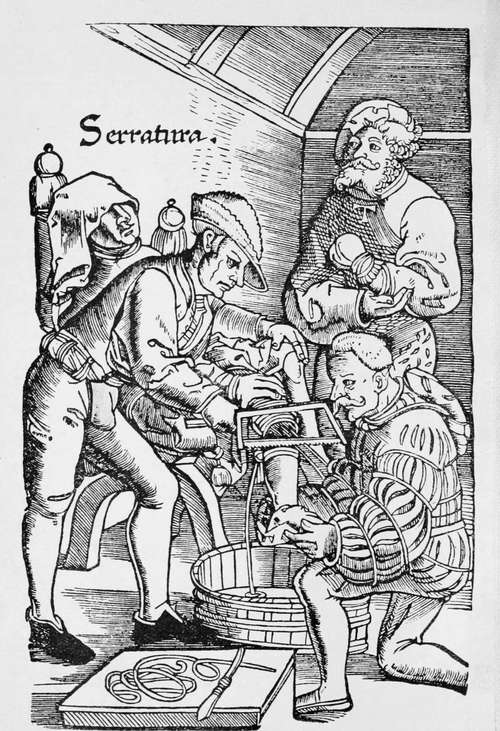 An Amputation Below The Knee. From Gerssdorjf*s woodcut, reproduced in Gurlfs "Geschichte der Chirurgie"
A good friend of mine, Dr. Phillip Smith, is a poet and an infectious diseases expert. He and several of his colleagues just published a paper,
"Infection control through the ages."
As you may know, infection control today goes without saying--hand washing, cover your mouth when you cough, use sterile everything when doing surgery...
So obvious, right?
'Twas not always so. Hold on to your hats, yo.
Medieval Era (5th to 15th Centuries)
For background, remember that in the mid 1300's, the bubonic plague killed 1/3 of the population in Europe.
Hospital death rates were so high that sometimes a requiem mass was held for people entering the hospital, as if they'd already died. (Can we say "glass half empty" any louder?)
Some wounds were treated with cautery. A burning iron was pushed into a wound until it hit bone, or boiling oil and treacle was poured into the wound. (And you though salt was bad.)
Corpse removal was not immediate. We take this for granted. During this time, immediate removal would be thought odd. Sometimes, bodies in rigor mortis remained in the same bed with with other living patients for over 24 hours. (*looks for trashcan; dry heaves*)
Early Modern Era (1500-1800)
Infectious diseases continue to be the most common cause of death in Europe and the U.S. Yellow fever hit, (you must read Laurie Halse Anderson's Fever 1793 for a great fictional account of this time), measles and smallpox were serious killers, and massive outbreaks of cholera hit in the early 1800s.
The first "clinical trial" for smallpox happens in 1796--an 8 y/o boy is inoculated with blisters from a milkmaid with cowpox. The boy then survives a smallpox challenge.
Bloodletting is a common form of treatment. One woman is described to have been bled 1309 times before dying at age 31. (Gee. I wonder why she didn't make it to #1310.)
Most women undergoing Cesarean section died.
40% of those undergoing amputation died from infection. Most instruments such as metal probes and saws were not cleaned between patients and were caked with pus and blood. (Under these circumstances, 60% survival rate is not that bad...)
There is a proposal to ban spitting on the hospital wards. (Yay! Personally, I'd like to ban spitting all the time.)

This paper is such a great find for writers doing any historical research!
Healthcare is always an issue in historical fiction.
If you would like to read more, you can download the PDF here.
("Infection control through the ages." Smith et al. American Journal of Infection Control. 2012; 40:35-42)
Congrats Phil, Kristen, and Dr. Hewlett on your publication, and thank you for doing all that exhaustive research!
I hope some of you will find this helpful if you ever need research for your novels during any of these eras. Happy Monday!
If you've got a fictional medical question, let me know! Post below or email me at
All I ask is that you become a follower and post a link on your blog when I post your answer. This is for fictional scenarios, only. Please check out the boring but necessary disclaimer on my sidebar ---> Also, don't forget to stop by
Laura Diamond's
Mental Health Mondays
and
Sarah Fine's
The Strangest Situation
for great psychiatric and psychological viewpoints on all things literary. :)
Now follow Medical Mondays on Twitter! #MedMonday